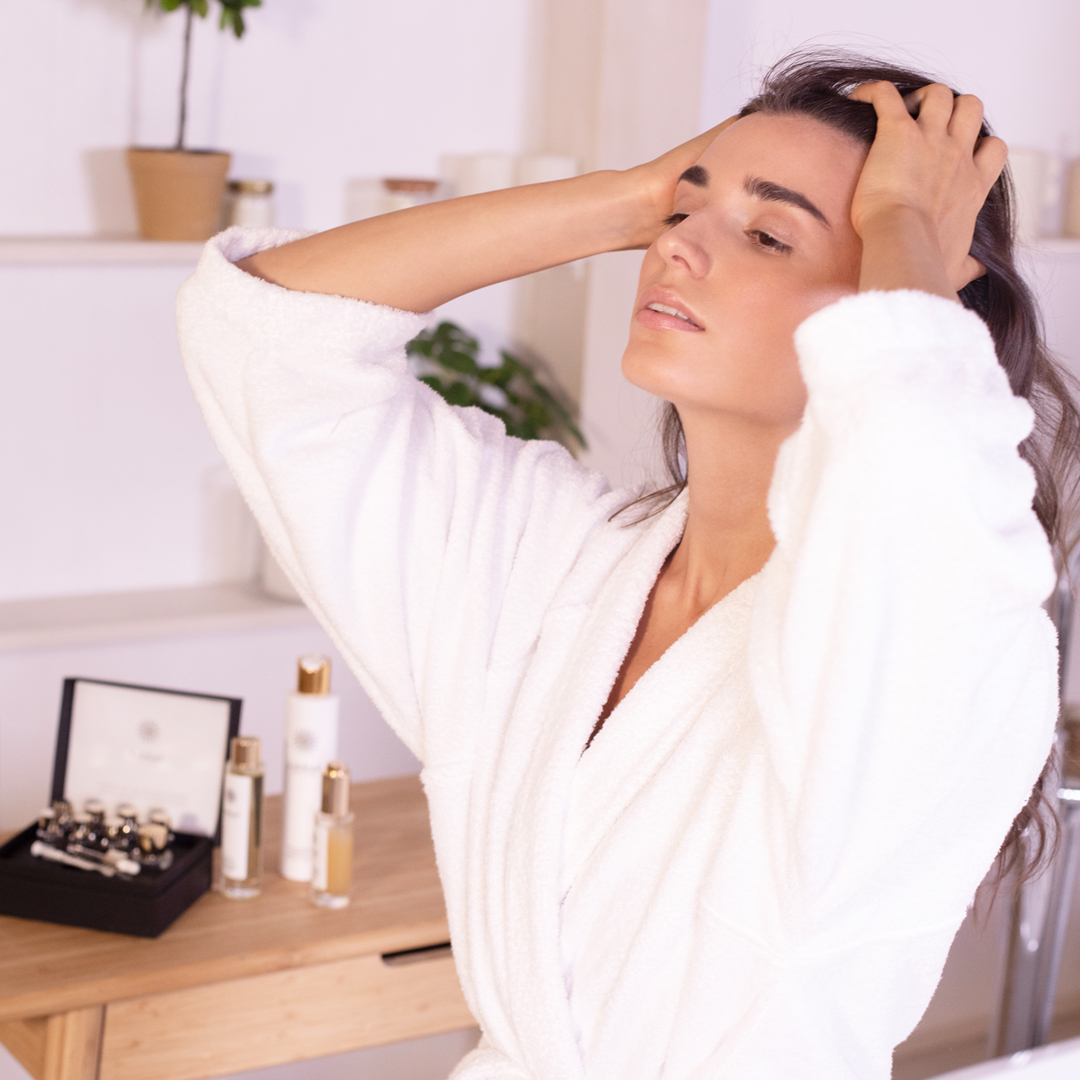 IS VALDORÉ PRODUCTS SUITABLE FOR MEN ?
Yes, all Vadloré products are unisex, which means they are suitable for both women and men.
HOW LONG AFTER SERUM APPLICATION CAN I WASH MY HAIR?
Highly recommended to apply Intensive program and Serum at night, it is supposed to stand on the skin at least 6 hours to get the maximum effect of the components.
IS IT POSSIBLE TO MAKE SCALP CARE ROUTINE IN THE MORNING ?
Yes, it's possible. Products are quickly absorbed and have a non-sticky structure, don't grease hair roots. Nevertheless, applying the Intensive program and Stimulating serum at night is highly recommended to get the maximum effect of the components.
CAN I USE THE PROGRAM AND THE SERUM AT THE SAME TIME?
Yes, the two products are compatible with each other and can be used consecutively. The Night Serum is recommended for use after or between courses of the Intensive Program.
DO VALDORE SERUM PRODUCTS MAKE HAIR OILY ?
Absolutely no. The consistency of products is liquid, non-sticky, absorbs quickly, leaves no residue on the hair and pillowcase.
ARE THESE PRODUCTS SUITABLE FOR SENSITIVE SKIN ?
Valdore stimulating products contains alcohol. The alcohol helps to dissolve and improve the absorption of the ingredients. Individual reactions such as redness, irritation and burning are possible to alcohol-containing formulations.
IS THIS SCALP STIMULATING SET EFFECTIVE FOR TRACTION ALOPECIA TREATMENT ?
Yes, stimulating nutritional products help to restore hair growth and density. Traction alopecia appears when too much stress is regularly placed on the hair roots, pulling them out and irreversibly damaging the follicles like hair extensions or dreads. Use Stimulating set to keep hair roots strong and healthy.
DO SCALP STIMULATING SET SUITABLE FOR TELOGEN ALOPECIA TREATMENT ?
Yes, this set has great potential to treat telogenic hair loss and awoke sleeping follicles. "Diffuse telogenic alopecia", i.e. the premature completion of the growth stage. It is customary to distinguish two types of such alopecia: acute telogenic alopecia - lasting less than 6 months, and chronic telogenic alopecia - lasting more than 6 months, and sometimes lasting for several years. Thanks to the local therapy with stimulants - the effect on the hair roots and scalp, you can quickly restore the volume and density of the hair.